Summary
In response to community feedback on removing incentives for recursive borrowers, this proposal aims to align with the community's strategic preference by updating the per market distribution of LQ rewards. For the first two months on mainnet set at 50-50 for suppliers and borrowers in both the ADA and DJED markets, if this proposal passes there will be an update to the per market distribution to set it to 100-0, reducing borrow side incentives to 0%. Suppliers in each market will receive 100% of LQ user distribution rewards.
UPDATE: The temp check to update collateral and interest rate parameters (Update collateral and interest rate parameters for ADA and DJED markets) would apply a "penalty" for suppliers with recursive leverage such that any supplier in the ADA market who has used their qADA to open an ADA loan would receive 0 LQ rewards (same for DJED suppliers who open DJED borrows backed by qDJED).
As observed in previous lending protocols using boosted yields to bootstrap liquidity we have seen recursive or wash borrowing drive market utilization to the far end of the curve. This poses serious liquidity risk to the protocol and is not a safe position for a newly launched liquidity protocol to be in for an extended period of time.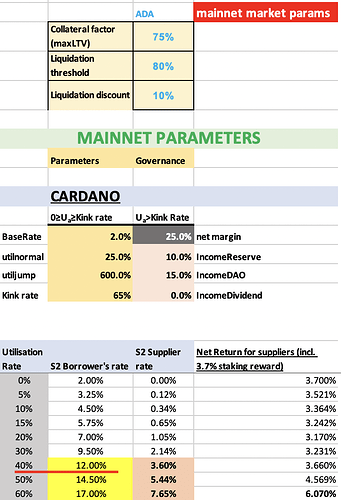 We are currently observing just over 40% market utilization in the ADA market, with some community members actively discussing recursive borrowing strategies to capture higher LQ rewards yields in Discord/Twitter. If this proposal passes we expect a reduction in the level of wash borrowing in this market as yields will be significantly higher for supplying in other markets with less supply than the ADA market (e.g. DJED, SHEN markets).
This proposal will apply to the per market distribution ratio starting at the vote end (if successfully voted in). This proposal introduces changes to both markets live on mainnet currently, and to upcoming future market launches (e.g. SHEN).
UPDATE: To @Tron point, the result of the vote will take effect following the closing of the vote, not retroactively. To clarify the only reason it was at the start of the month is due to the monthly epoch currently in use for rewards calculations. However I have confirmed with the developers we can have arbitrary length epochs and they do not need to remain a month long.
Do you support an update to the LQ distribution rate to remove incentives for recursive borrowing?