Relevant links:
https://twitter.com/WorldMobileTeam
Summary
This is a proposal for creating a new liquidity market to support World Mobile's WMT for lending and borrowing on Liqwid v1.
Project and Token Overview
World Mobile is building a decentralized mobile and data sharing network on Cardano using their EarthNode operators model. To learn more about their mission to connect the unconnected and their technology stack check out their website/blog. This tweet thread from the World Mobile team is a nice introductory into their process: https://twitter.com/WorldMobileTeam/status/1633120819214798848?s=20
World Mobile Token buyback details: https://worldmobiletoken.com/blog/post/world-mobile-token-s-buyback-program-driving-growth-in-the-sharing-economy
WMT Market Reasoning
WMT has a strong utility use case within the World Mobile sharing economy and is directly utilized by their ErthNode operators and stakers for processing network transactions. Last month the team also unveiled an initiative to use World Mobile's treasury to purchase World Mobile Tokens (WMT) from the open market via revenue generated following the launch of their commercial services (full details outlined in their blog post above). In addition WMT has consistently had some of the liquidity and volumes amongst all Cardano native tokens supported by a large number of token holders (currently ~25k).
Specifications
With multiple centralized exchange listings and total trading volume across both DEX and CEX platforms of ~$788k the WMT is a strong candidate for listing on Liqwid v1. The Liqwid core team will utilize price feeds from the Cardano DEXs and centralized exchanges for the WMT money market.
Suggested WMT Market and Risk Parameters
The proposed WMT market parameters and resultant interest rate curve for borrowers and suppliers are as follows:

The proposed WMT risk parameters are as follows: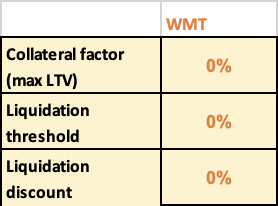 Do you support this proposal to add a WMT lending and borrowing market on Liqwid v1?